Welcome to Our Current Projects page, where you can see what we are currently working on.  Here, we will feature custom jobs, and new products by Superior Clay Corporation.
Terra Cotta Chair Summer 2015
Custom Terra Cotta Chair, designed by Eric Haskins, AIA, Architect.  Beautiful natural Terra Cotta design creates a unique piece of furniture that is durable, weather resistant and one-of-a-kind!
Wrigley Field Wall Coping –Spring/Summer 2015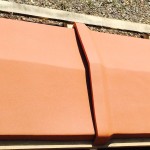 Superior Clay continues to produce the highest quality, custom Architectural Terra Cotta.  One of our ongoing projects for the summer of 2015 is a classic Wall Coping Tile as part of a beautiful restoration of Wrigley Field, in Chicago Illinois.  The coping is two custom sizes of the traditional "Double Slant" style wall coping.  Over 1,200 liner feet of Superior Clay Coping will soon adorn the walls of Chicago's most treasured structure.
Beautiful Custom Chimney Pot –2015
Another Custom Chimney Pot for one of our customers.  This beautiful pot was originally made in NJ, according to the stamp inside the pot.  We were asked to duplicate one of them for a renovation.  You can see the results below, we added our own twist.
Mobile Oven/Pre-Fab -Spring 2015
This 36″ Oven was designed for local partners to use at our very popular Tuscarawas Valley Farmers Market. These ovens are available for purchase as a mobile unit, as pictured, or, as a turn-key, set in place finished product for your back yard or patio.  The oven is fully insulated and ready to use, this particular model was done in a Rustic design. Custom options are available to suite your taste.  Learn more at our Wood Fired Ovens Page