Superior Clay's Brick Ovens are considered "Black Ovens" meaning, they heated by building a fire inside the Oven chamber.  Some foods such as pizza, cooks fast in a hot oven (3 minutes at about 700 degrees F) and are cooked in the oven while the fire is still burning.
Superior Clay Brick ovens are available in 4 sizes, from 18″ to 48″. Superior Clay has developed a set of plans for the construction of these traditional brick and masonry ovens. Our wood fired ovens can be built alongside a Rumford fireplace or as a standalone unit in your kitchen or back yard. Refer to the drawing for important measurements. For full installation instructions, click the pdf below.
Technical drawings are available for these brick oven sizes: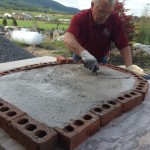 Download Brick Oven pdf file here.